Bajaj Finance FD: Bajaj Finance has once again given good news for all the investors. It has increased FD rates by up to 40 basis points or 0.40 per cent. The new rates have come into effect from January 20, 2023. According to the announcement, the interest rate on FD with maturity of 44 months will be 8.10 per cent per annum. For senior citizens, and 7.85 per cent per annum for customers below the age of 60 years.
The new rates will be applicable on all new deposits and renewals with Bajaj Finance for tenors ranging from 12 to 60 months. A comparison of the old and new interest rates for cumulative FDs is given below:
Get higher interest rate on FD with Bajaj Finance
With Bajaj Finance, individual investors can now book their FDs for maturity periods between 12 and 60 months. They can do this by depositing an amount within the range of Rs 15,000 to Rs 5 crore. However, individuals need to know various factors before putting their investible surplus in FDs, especially if they aim to enjoy high returns on their deposits.

Bajaj Finance offers two types of interest payment options; Cumulative and non-cumulative. The FD interest rate applicable is higher in the cumulative payout option and the customers get their total fund value after the end of the predetermined tenure. However, if they wish to enjoy monthly, quarterly, half-yearly, or annual payouts to meet regular expenses, they will have to go with a non-cumulative FD. Customers can avail this flexibility as per their financial goals and interests.
Here is a brief glimpse of how the pay-out option affects the interest rate:
Cumulative Interest Rate for Bajaj Finance Non-Senior Citizen Customers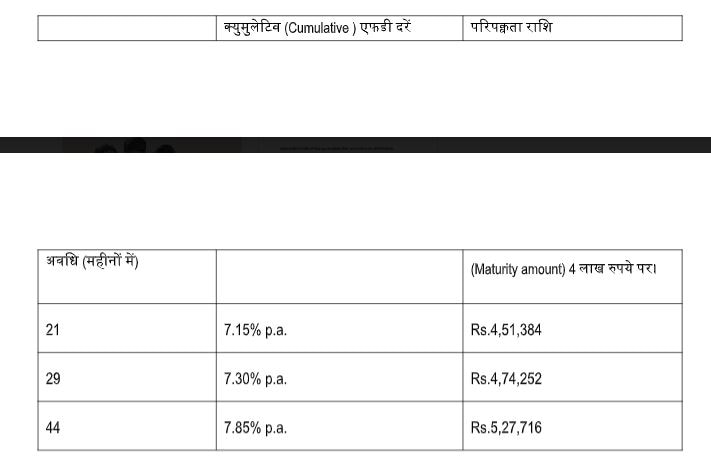 Note: The results have been aggregated using the Bajaj Finance Fixed Deposit calculator.
Non-cumulative interest rate for non-senior citizen customers of Bajaj Finance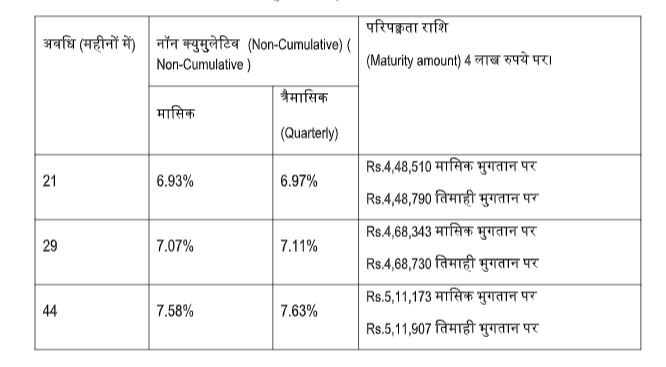 Note: The results have been aggregated using the Bajaj Finance Fixed Deposit calculator.
From the above table, it is clear that apart from the type of pay-out options, the rate of interest also depends on the tenure. With extended tenure, individuals can secure higher FD rates and returns. Avail special interest rate on selected tenure
Customers can book Bajaj Finance FD at enhanced interest rates for certain tenures of 15, 18, 22, 30, 33, 39 and 44 months. Individuals opting for these specific tenures will get additional interest as compared to the interest they would have got had they opted for a different maturity period.
Similarly, individuals can book higher interest rates on other special tenures as well. In this regard, you need to know that the maximum interest rate comes for a period of 44 months. During this period, senior citizen and non-senior citizen customers can book FDs at 7.95 per cent per annum and 7.70 per cent per annum.
Irrespective of the interest rates respectively, if individual customers need to find out how much they will earn on their deposits after booking an FD, they can take advantage of the Bajaj Finance FD calculator. By simply putting in the values ​​like investment amount, tenure and pay-out option, they can get the required results within seconds.
Invest small amounts regularly with Bajaj Finance SDP
Keeping in mind the challenges of depositing lump sum amount in the initial earning period of new investors, Bajaj Finance has come up with Systematic Deposit Plan (SDP). This will allow investors to invest a fixed amount every month. At the end of the maturity period, they can withdraw all their accumulated money at once.
Now that Bajaj Finance is offering the most attractive FD rates, customers can earn high returns on their deposits in a risk-free manner. In this regard, individuals should also be aware that Bajaj Finance has been accredited with CRISIL AAA/STABLE and [ICRA]AAA(stable) rating is given. Hence, potential investors can put their worries to rest and open their FD online with Bajaj Finance today!
read this also
India is a ray of hope in many big economies, separation of China and America is an opportunity for the country – Gautam Adani