Bio Gas Slurry: Due to the indiscriminate use of chemical, the land of the village is becoming barren. Soil is losing its fertility and crop production is also decreasing. There is only one solution to this problem in the form of organic farming. Manure made from cow dung not only increases the number of organisms in the soil, but also improves the productivity of the crop. The central and state governments are also promoting organic farming in different ways. In this episode, it is also advised to set up a biogas plant. It is helpful in generating additional income for farmers and animal herders.
These biogas plants not only provide fertilizers for agriculture, but also provide fuel for burning the stove. In this way, along with farming, the cost of kitchen can also be saved.
The good news is that now farmers are getting financial help for setting up biogas plants. In this episode, the Haryana government has also sought applications from the farmers.
How much subsidy will be given
According to the notification issued by the Haryana government, grant will be given for setting up a biogas plant of 1 cubic meter to 2-4 cubic meter, 6 cubic meter. The grant amount has been fixed separately for general and SC-ST categories.
For setting up a biogas plant of 1 cubic meter size, a grant of Rs 9,800 will be given to the general category and Rs 17,000 to the SC-ST category.

Beneficiaries of the general category who set up biogas plants of 2 to 4 cubic meter size will get Rs 14,350 and SC-ST category will get Rs 22,000.

There is a provision of grant of Rs 22,740 to general category applicants and Rs 29,250 to SC-ST category on the cost of building a 6 cubic meter biogas plant.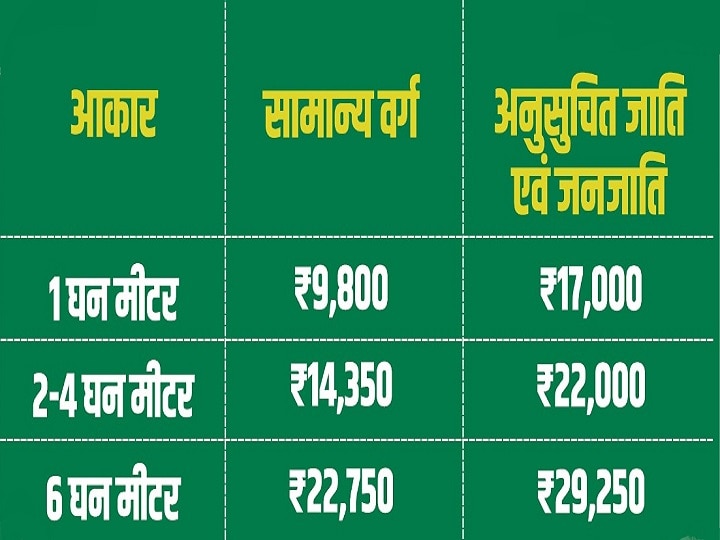 where to apply
If you are also a farmer or animal husbandry and want to set up a biogas plant for the proper disposal of cow dung, then you can contact the project officer in the office of the agriculture department or the deputy commissioner's office in your district.
For more information, you can also visit the official website of New and Renewable Energy Department or Haryana Renewable Energy Development Agency HAREDA.

To avail subsidy on installation of biogas plant http://biogas.mnre.gov.in Apply on are sought.

If the farmer wishes, with the help of E-Mitra Center or CSC Center, he can apply online with all the necessary documents.
Government giving subsidy to farmers for setting up biogas planthttps://t.co/qIATq6AqZ0 Apply on pic.twitter.com/ZVsAYzMLNU

— MyGovHaryana (@mygovharyana) January 20, 2023
What will be the advantage of setting up a biogas plant?
There is a lot of practice of farming and animal husbandry in our rural areas. The rural economy rests on both these works. A lot of cow dung is available from animal husbandry and dairy business, which if used properly can increase crop production as well as income.
Understand it in such a way that fodder is available for the animals from the fields and dung is obtained from the animals after eating the fodder. This cow dung is again used as bio-fertilizer, vermicompost or slurry as manure for growing crops or fodder. It acts as a more powerful bio-fertilizer than chemical. If farmers set up a biogas plant, they can save a lot of farming expenses.
Disclaimer: Some of the information given in the news is based on media reports. Farmer brothers, before implementing any suggestion, do consult the concerned expert.
Read this also:- Grant of Rs 48,000 for fencing of fields in this state, 60% subsidy is being given on the total expenditure