Imran Khan PTI Memeber: Nearly a year after Imran Khan stepped down from the post of Prime Minister in Pakistan, the political situation in the country continues to fluctuate. Pakistan's National Assembly Speaker Raja Pervez Ashraf on Friday (January 20) accepted the resignations of 35 members belonging to Imran Khan's Pakistan Tehreek-e-Insaf (PTI) party. This is in accordance with a long-standing demand of the party's National Assembly (MNA) members. Many of them had submitted their resignations in April last year.
However, there was a controversy at the time of accepting the resignation. According to a report in Pakistan's daily Dawn, National Assembly Speaker Raja Pervez Ashraf had resigned in an attempt to thwart PTI's plan to move a no-confidence motion against Prime Minister Shehbaz Sharif. However, Ashraf denied this. The Don mentioned him as saying, "When I don't accept the resignation, there is an uproar and when I do, there is hue and cry."
Imran Khan had accused
Shortly before Shehbaz Sharif was elected PM in place of PM Imran Khan on April 11, 2022, 131 PTI MPs resigned en masse at the Parliament House in Islamabad. It was said that the resignation was given to protest against the "imported government". Then Imran Khan had alleged that foreign interference was involved in his removal.
However, Speaker Ashraf refused to accept the resignations of all. As recently as December, he was adamant that resignations would be accepted only after personally verifying them, to ensure that the decision was made voluntarily and without any external pressure. This clashed with the demand to accept the resignations of MPs in one go.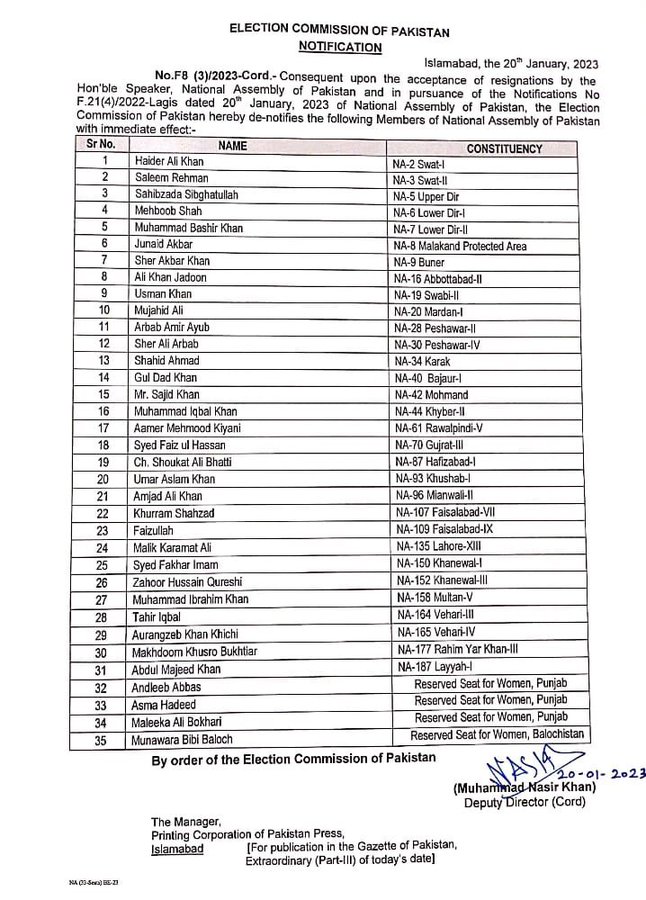 Earlier 11 resignations were accepted
National Assembly Speaker Raja Pervez Ashraf accepted only 11 resignations out of 131 on 28 July. According to the Dawn report, the National Assembly members whose resignations were accepted were Abdul Shakoor Shad, Ali Muhammad Khan, Fazal Muhammad Khan, Shaukat Ali, Fakhar Zaman Khan, Farooq Habib. Ejaz Ahmad Shah, Jameel Ahmad Khan, Muhammad Akram Cheema, Shandana Gulzar Khan and Dr. Shireen Mehrunnisa Mazar. Months passed without any resolution to the demands of the Speaker and PTI MPs, until the resignations of 34 PTI MNAs were accepted by January 17 this year.
read this also:Quran Burning Issue: Muslim countries like Pakistan, Saudi Arabia, Iran and Qatar were enraged when the Quran was burnt in Sweden, know who said what