Jaya Bachchan Introduced Bahu To Be Karisma Kapoor: There have been many such love stories in Bollywood which never got any success. One such love story is of Abhishek Bachchan and Karisma Kapoor. Nearly two decades ago in 2002, the Kapoor and Bachchan families decided to convert their friendship into a relationship with the marriage of Karisma Kapoor and Abhishek Bachchan (Abhishek Bachchan Karisma Kapoor Wedding). But the very next year in 2003, when the whole country was eyeing this grand wedding, the news of the breakup of the couple surprised everyone. Abhishek Bachchan and Karisma Kapoor (Abhishek Bachchan Karisma Kapoor Break Up) ended their relationship after dating each other for almost five years and even after getting engaged. The Bachchan family had started considering Karishma Kapoor as their own. Today we have brought a special video for you when Jaya Bachchan called Karisma Kapoor as her future daughter-in-law in front of the whole world.
This video is from the year 2002 when introducing her future daughter-in-law Karisma Kapoor (Jaya Bachchan Karisma Kapoor Video) and welcoming her into the family, Jaya Bachchan had said, "I along with the Bachchan and Nanda family, one more in our family group." Welcome to the family and that's the Kapoors. Randhir and Babita Kapoor, and my daughter-in-law-to-be Karisma Kapoor. This is the most wonderful gift Abhishek has to his parents on his father's 60th birthday."
A shy Karisma then joined Jaya Bachchan on stage and later, the entire Bachchan, Nanda and Kapoor family posed for a happy picture. In the video, you will also see a close-up of Karisma's sparkling engagement ring. All the pictures and videos during this period are also available on social media. However, till date the real reason for the breakup of Abhishek and Karisma Kapoor's relationship has not been revealed. Watch the most special video of the Kapoor and Bachchan family here:

According to reports, in 1997, Amitabh Bachchan and Jaya Bachchan married daughter Shweta Bachchan Nanda. After this, the news of Karisma Kapoor and Abhishek Bachchan dating started coming. Although they had managed to keep their relationship a secret for five years, in October 2002, at Amitabh Bachchan's 60th birthday celebration, Abhishek and Karisma's engagement announcement took everyone by surprise. Then Karishma had said, "It feels great to be a part of this family."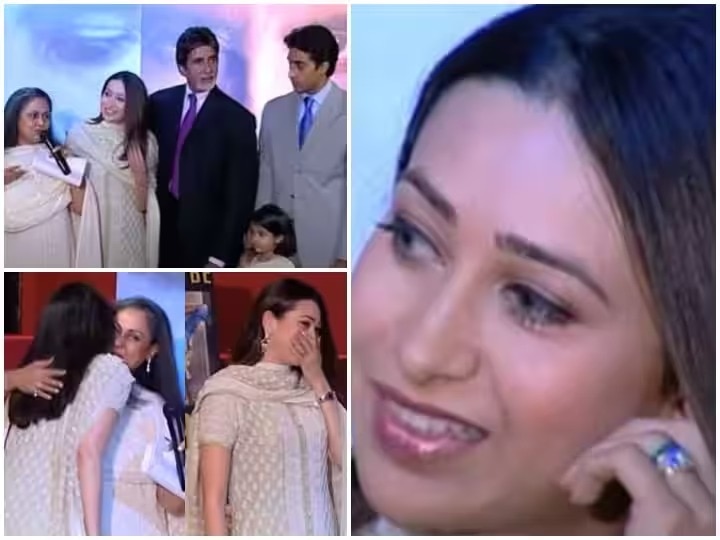 Even after such a wonderful announcement, this relationship could not reach its destination. Many reasons are given for the breakup of Abhishek and Karishma's relationship. One of these is that at that time the Bachchan family was going through a very bad phase financially. On the other hand, Babita Kapoor, who raised her two daughters alone, wanted to secure the future of her daughters, apart from Randhir Kapoor. At that time, Abhishek Bachchan's career was also nothing special and he was known only as the son of Amitabh Bachchan.
Along with this, another reason, according to media reports, it is also told that Jaya Bachchan used to take most of the decisions related to the lives of her children and the Bachchan family wanted that the daughter-in-law of her house should not work in films after marriage. This thing was exasperating to Karisma Kapoor and Babita Kapoor. In such a situation, it is said that because of this also this marriage could not take place.
'Pulled him by holding hands in front of everyone and…'- Mukesh Ambani showed eyes to this act of his son in the middle of the engagement event
These heroines came to the memory of settling down in their late age… Some became brides at the age of 40 and some at the age of 60